Thayer High School
Thayer, Missouri
Architect:
Paragon Architecture
Scope of Work:
Fabricated rain screen system RS100, painted three different custom color greens.
Photo Credit:
Abstract Photography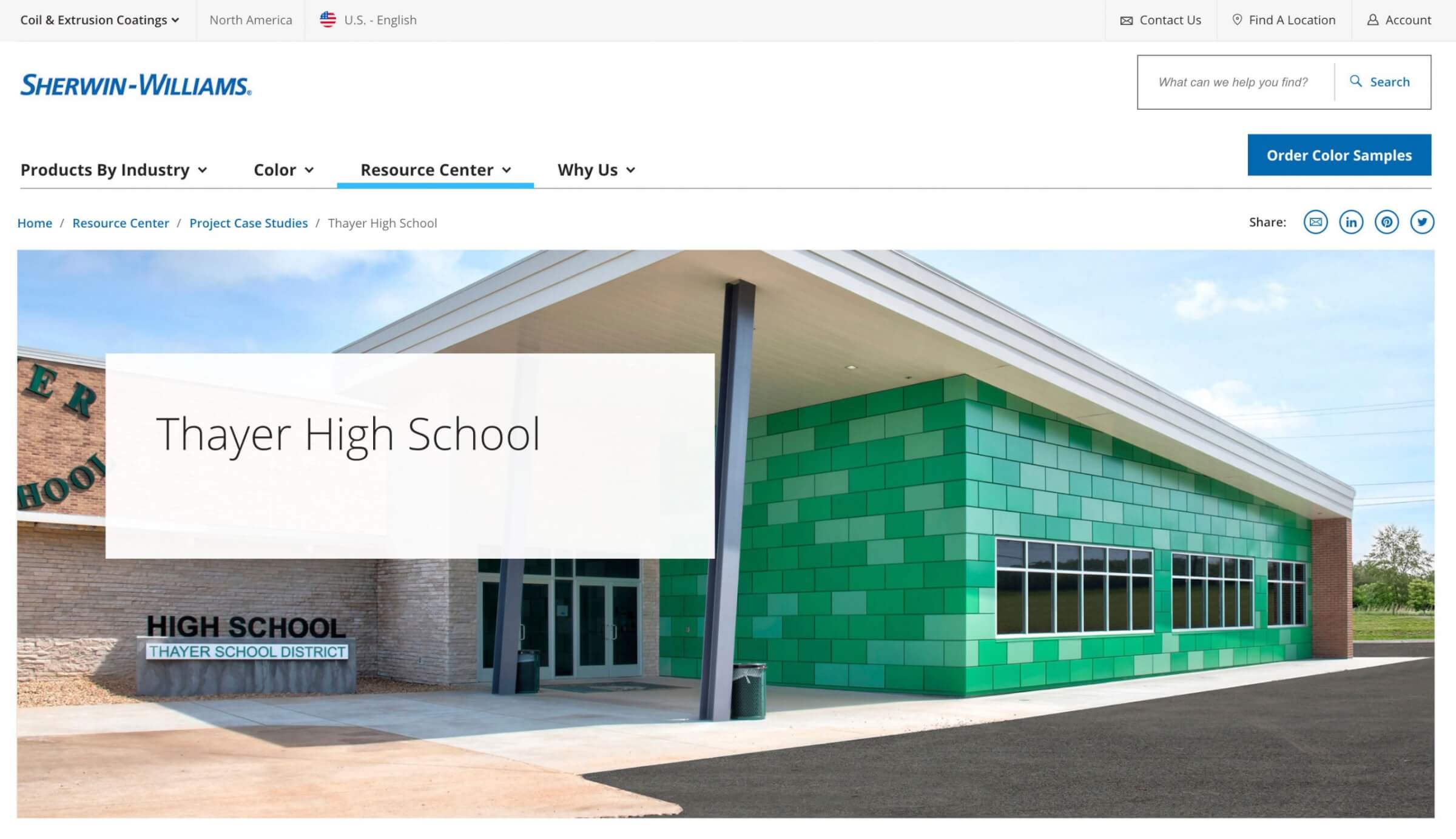 Sherwin Williams Case Study: Thayer High School
We're green with envy! American Metalcraft coated this rainscreen system with custom shades of green from Sherwin-Williams Coil Coatings. The three different green hues on the exterior of Thayer High School in Thayer, Missouri boast a retro vibe that showcases a collaboration of colors + companies at their finest. 
American Metalcraft Metal Plate Wall Panels:
RS100 System Specification
*Please note, you don't have to have dropbox to download. Once you click on the file, click on the down arrow symbol on the far right and select direct download.
The AMI RS100 rainscreen is a customer favorite with its sleek design and fast install time. There are so many design options – vertical, horizontal, brick patterns and more. Unlike coil coat, American Metalcraft plate panels don't require minimums for custom colors. With our sister company Finishing Dynamics as an approved applicator for Sherwin Williams, Akzo Nobel, PPG and Valspar (now Sherwin Williams) your products will have the highest quality fluoropolymer finishes available. If you need additional products for your project such as sunshades, brake metal, spandrel panels, perforated or ornamental metal – we can fabricate and finish those as well. Having your aluminum products manufactured and painted in the same facility ensures your color deltas are consistent for the entire job and the quality controls are of the highest standards from start to finish.
Interior Custom
AMI fabricates custom interior work from aluminum, stainless steel or as part of a large assembly of various materials (as designed and specified by the client). We enjoy creating custom interior work because the level of fit and finish is so exacting. Interior elements at a pedestrian level give AMI a chance to demonstrate our exacting standards.
We work to exacting tolerances in our shop and offer a number of unique and exciting tools to help you realize your vision. Our ability to create custom perforations, laser cut panels, welded corners and finish with a variety of treatments allows us to help you create everything from functional designs to signature elements.